SCREENSHOT 21) Click on power icon to exit the "HPE Intelligent Provisioning" and to reboot.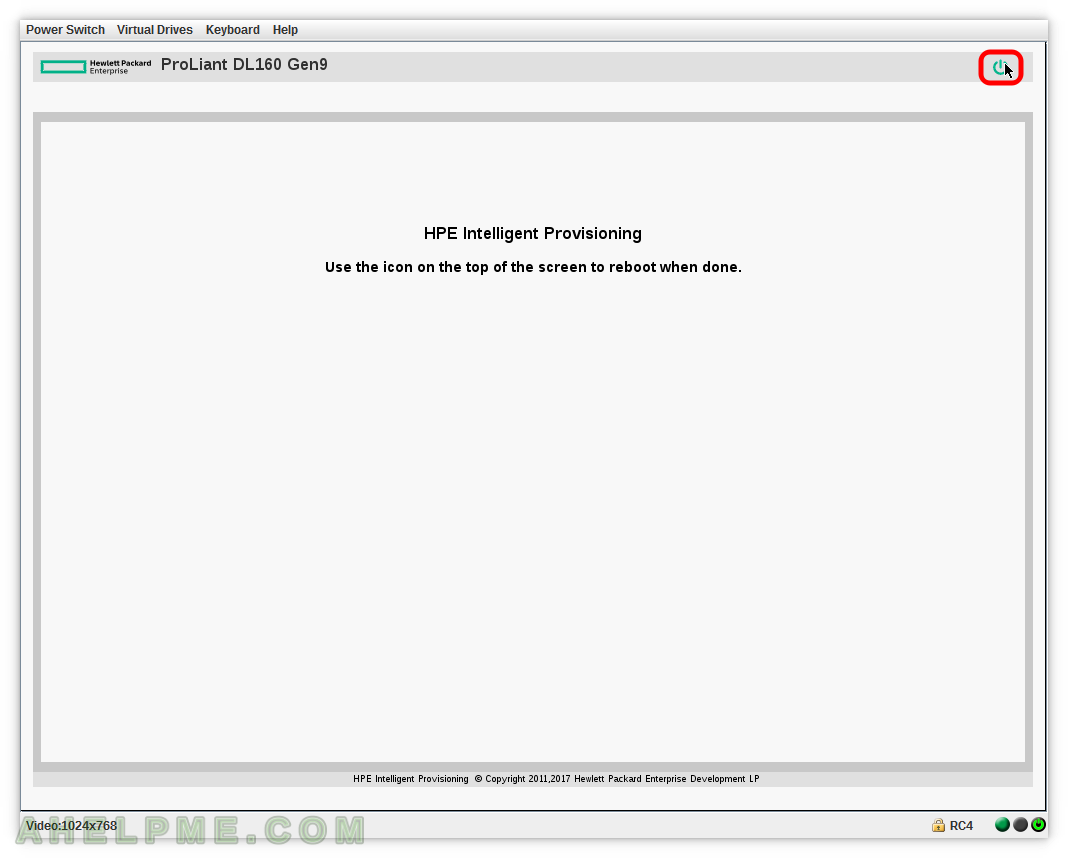 SCREENSHOT 22) Click on "Reboot" to reboot the machine.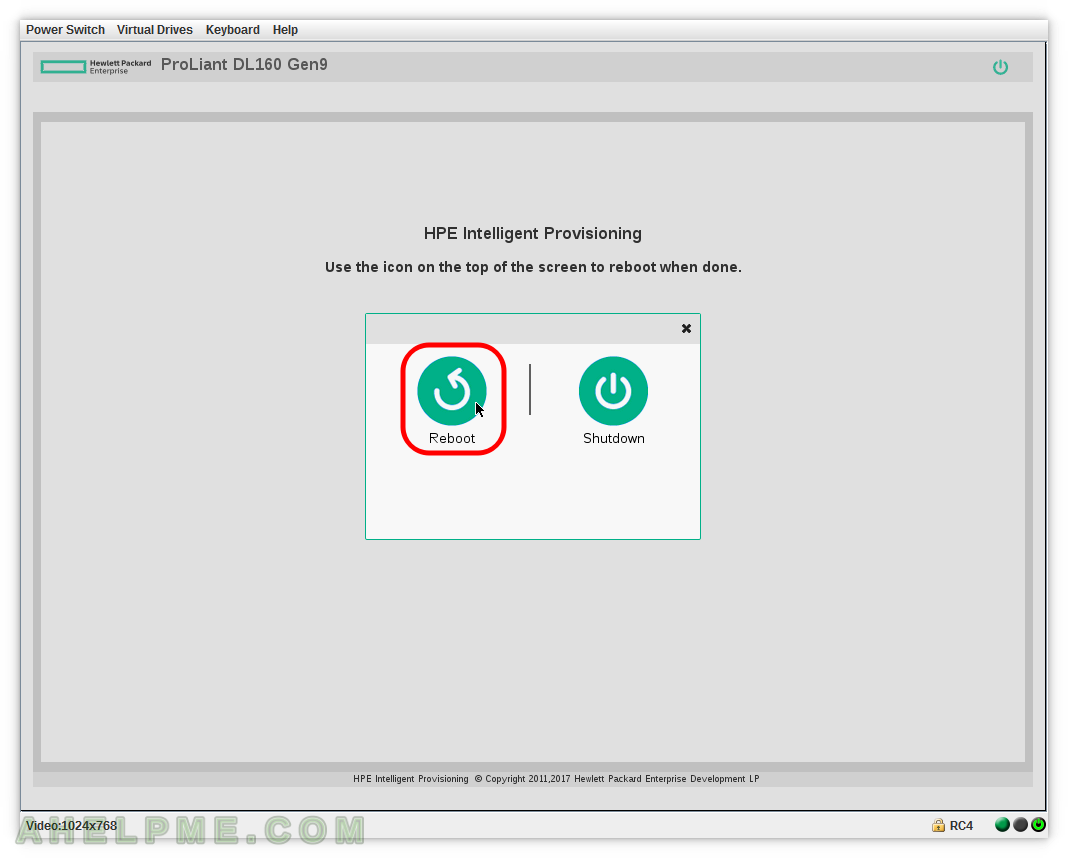 SCREENSHOT 23) After the reboot the controller is in Smart Array mode, you can configure it (first click on Smart Array P440 if it has not been selected yet) by clicking on "Configure".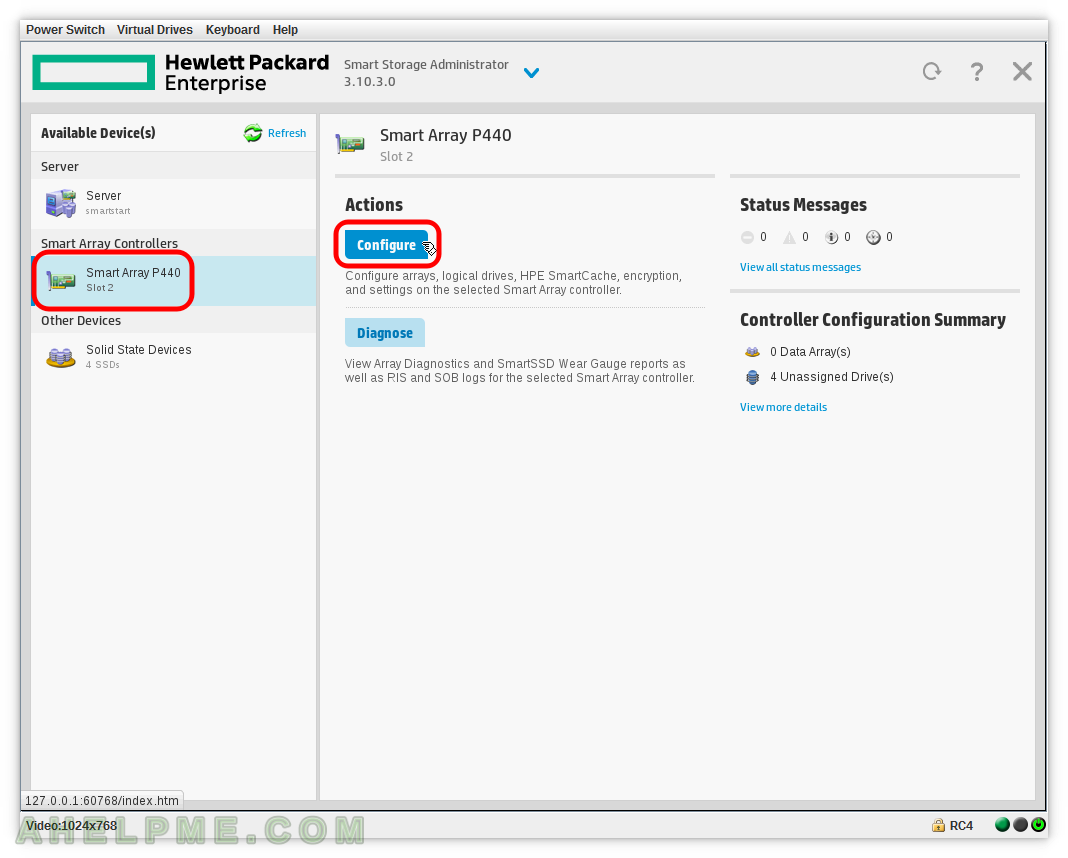 SCREENSHOT 24) Click on "Create Array" if you want to add a Virtual Drive of any of the supported RAID type – RAID 0, RAID 1+0, RAID 5 and RAID 6 (ADG)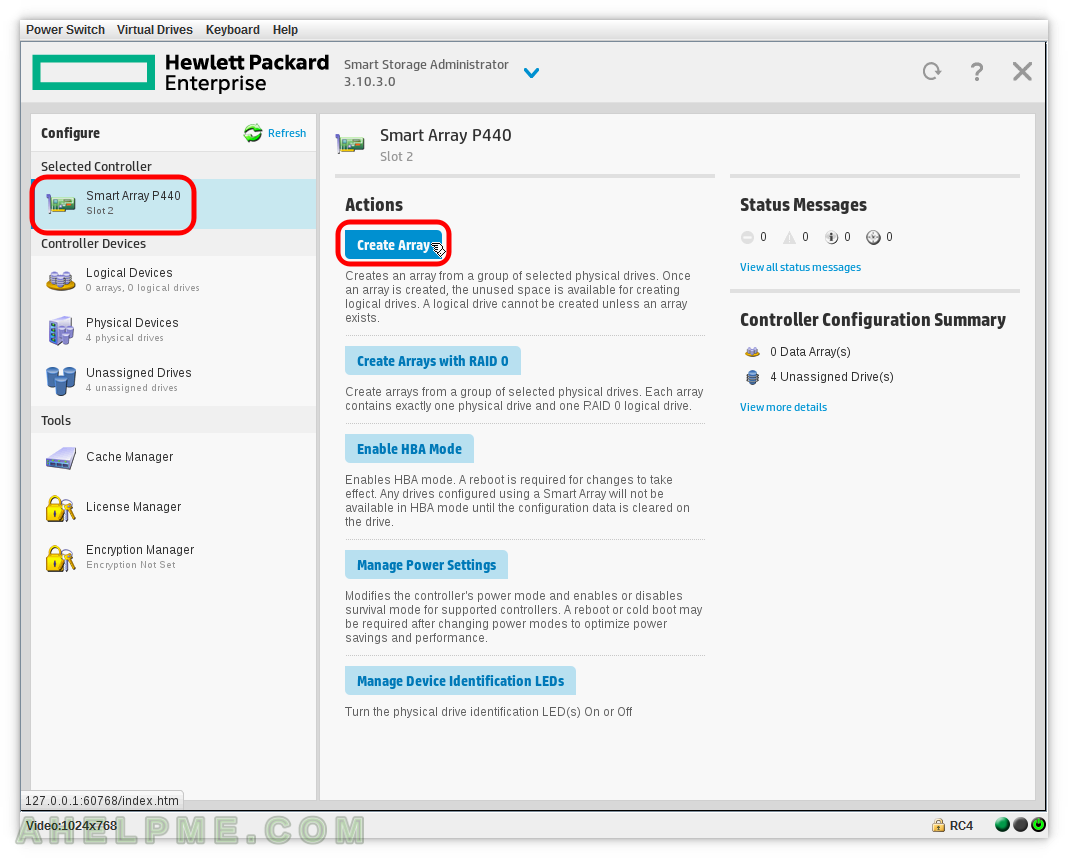 Bonus – Linux dmesg of HP HPSA Driver (v 3.4.20-125) output
The kernel version is 4.19.37.

[    4.390443] HP HPSA Driver (v 3.4.20-125)
[    4.390458] hpsa 0000:0a:00.0: can't disable ASPM; OS doesn't have ASPM control
[    4.390907] hpsa 0000:0a:00.0: Logical aborts not supported
[    4.482614] scsi host0: hpsa
[    4.482685] hpsa can't handle SMP requests
[    4.493798] hpsa 0000:0a:00.0: scsi 0:0:0:0: added RAID              HP       P440             controller SSDSmartPathCap- En- Exp=1
[    4.493801] hpsa 0000:0a:00.0: scsi 0:0:1:0: added Direct-Access     ATA      SAMSUNG MZ7KM480 PHYS DRV SSDSmartPathCap- En- Exp=1
[    4.493803] hpsa 0000:0a:00.0: scsi 0:0:2:0: added Direct-Access     ATA      SAMSUNG MZ7KM480 PHYS DRV SSDSmartPathCap- En- Exp=1
[    4.493805] hpsa 0000:0a:00.0: scsi 0:0:3:0: added Direct-Access     ATA      SAMSUNG MZ7KM480 PHYS DRV SSDSmartPathCap- En- Exp=1
[    4.493807] hpsa 0000:0a:00.0: scsi 0:0:4:0: added Direct-Access     ATA      SAMSUNG MZ7KM480 PHYS DRV SSDSmartPathCap- En- Exp=1
[    4.493809] hpsa 0000:0a:00.0: scsi 0:0:5:0: added Enclosure         HP       P440             enclosure SSDSmartPathCap- En- Exp=1
[    4.493859] hpsa can't handle SMP requests
[    4.494032] scsi 0:0:0:0: RAID              HP       P440             6.30 PQ: 0 ANSI: 5
[    4.494242] hpsa can't handle SMP requests
[    4.494747] scsi 0:0:1:0: Direct-Access     ATA      SAMSUNG MZ7KM480 304Q PQ: 0 ANSI: 6
[    4.495472] hpsa can't handle SMP requests
[    4.495958] scsi 0:0:2:0: Direct-Access     ATA      SAMSUNG MZ7KM480 304Q PQ: 0 ANSI: 6
[    4.496694] hpsa can't handle SMP requests
[    4.497180] scsi 0:0:3:0: Direct-Access     ATA      SAMSUNG MZ7KM480 304Q PQ: 0 ANSI: 6
[    4.497912] hpsa can't handle SMP requests
[    4.498388] scsi 0:0:4:0: Direct-Access     ATA      SAMSUNG MZ7KM480 304Q PQ: 0 ANSI: 6
[    4.499119] hpsa can't handle SMP requests
[    4.499255] scsi 0:0:5:0: Enclosure         HP       P440             6.30 PQ: 0 ANSI: 5
[    4.499508] scsi 0:0:0:0: Attached scsi generic sg0 type 12
[    4.499660] sd 0:0:1:0: Attached scsi generic sg1 type 0
[    4.499858] sd 0:0:2:0: Attached scsi generic sg2 type 0
[    4.500040] sd 0:0:3:0: Attached scsi generic sg3 type 0
[    4.500185] sd 0:0:4:0: Attached scsi generic sg4 type 0
[    4.500302] scsi 0:0:5:0: Attached scsi generic sg5 type 13
[    4.501642] sd 0:0:1:0: [sda] 937703088 512-byte logical blocks: (480 GB/447 GiB)
[    4.501833] sd 0:0:2:0: [sdb] 937703088 512-byte logical blocks: (480 GB/447 GiB)
[    4.501920] sd 0:0:1:0: [sda] Write Protect is off
[    4.501922] sd 0:0:1:0: [sda] Mode Sense: 46 00 10 08
[    4.502025] sd 0:0:3:0: [sdc] 937703088 512-byte logical blocks: (480 GB/447 GiB)
[    4.502108] sd 0:0:2:0: [sdb] Write Protect is off
[    4.502109] sd 0:0:2:0: [sdb] Mode Sense: 46 00 10 08
[    4.502297] sd 0:0:3:0: [sdc] Write Protect is off
[    4.502298] sd 0:0:3:0: [sdc] Mode Sense: 46 00 10 08
[    4.502310] sd 0:0:4:0: [sdd] 937703088 512-byte logical blocks: (480 GB/447 GiB)
[    4.502471] sd 0:0:1:0: [sda] Write cache: enabled, read cache: enabled, supports DPO and FUA
[    4.502705] sd 0:0:4:0: [sdd] Write Protect is off
[    4.502707] sd 0:0:2:0: [sdb] Write cache: enabled, read cache: enabled, supports DPO and FUA
[    4.502707] sd 0:0:4:0: [sdd] Mode Sense: 46 00 10 08
[    4.503016] sd 0:0:3:0: [sdc] Write cache: enabled, read cache: enabled, supports DPO and FUA
[    4.503270] sd 0:0:4:0: [sdd] Write cache: enabled, read cache: enabled, supports DPO and FUA
[    4.508738] sd 0:0:1:0: [sda] Attached SCSI disk
[    4.508895] sd 0:0:2:0: [sdb] Attached SCSI disk
[    4.509081] sd 0:0:3:0: [sdc] Attached SCSI disk
[    4.509240] sd 0:0:4:0: [sdd] Attached SCSI disk