This howto is just information what to expect from the community package of Intel Media Server Studio.
This package is the starting point of the Quick Sync using and development process – you'll need parts of it if you want to use hardware encoding and decoding for video streams like MPEG-2, H.264, VC-1, VP8, VP9, HEVC and more!

Most of the time this package is needed for the Intel® Media SDK and the graphics drivers it provides. So the main purpose here is to give you an information which version of the SDK and the graphics drivers are included in the different package and which kernel and Linux distro is supported.
Different versions support different OS linux distros – mainly different CentOS 7. The package supports also a Generic Linux installation on a relatively older kernel.
First we start how to freely download the "Intel Media Server Studio Community Edition" from the Intel site: https://software.intel.com/en-us/intel-media-server-studio
This package (as you can see below) supports CentOS 7.4.1708 or any linux distro by downloading kernel 4.4.111.
STEP 1) Get the free community edition, select "Community" from the dropdown as shown and click on "Free Download".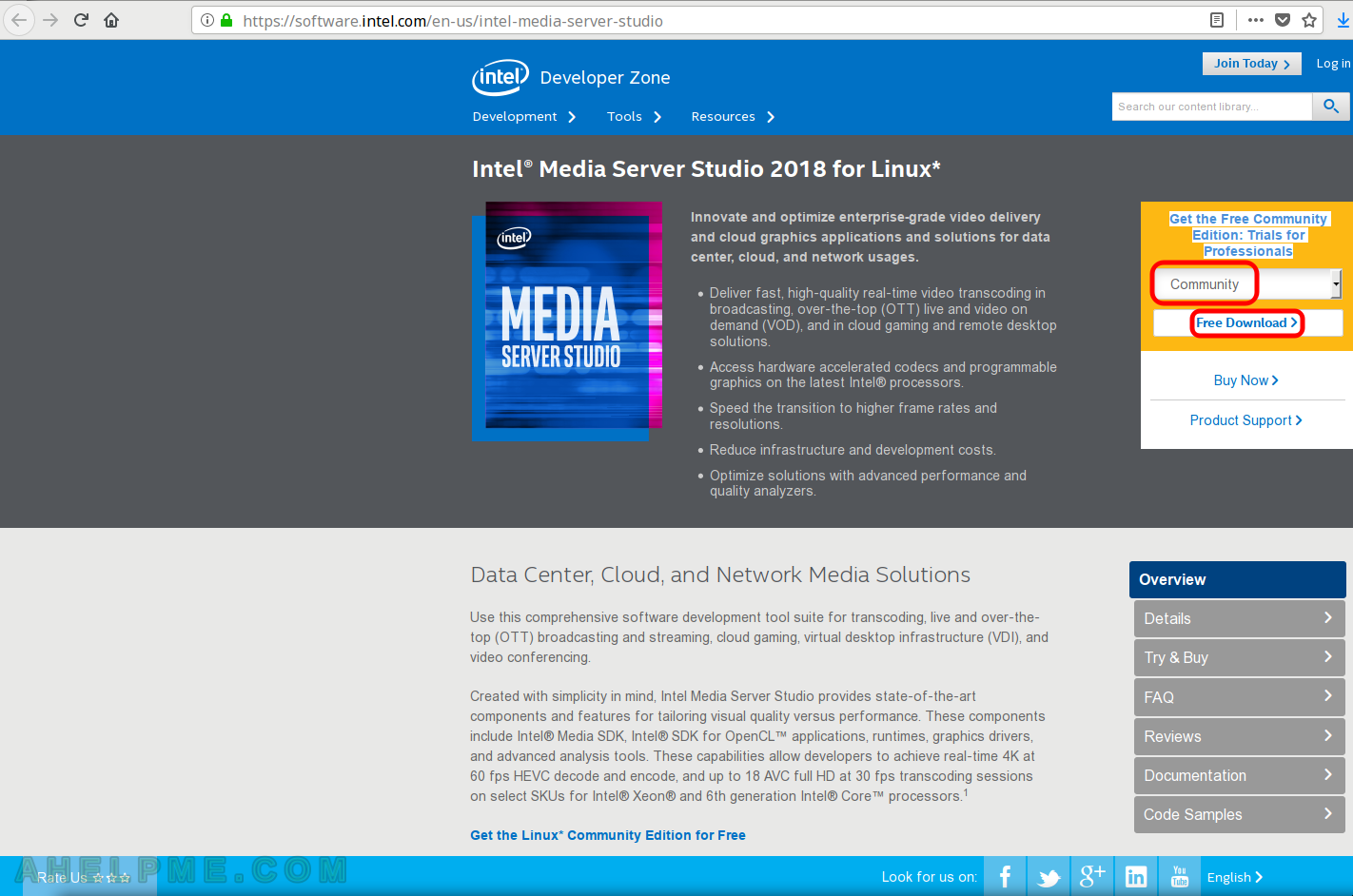 STEP 2) Intel wants to register before downloading the Community edition, if you have already had an account you could sign in.
Fill the data with your personal and company details, do not fake them! You can miss something important from Intel and you know they give you a big piece of software for free, which could help you a lot!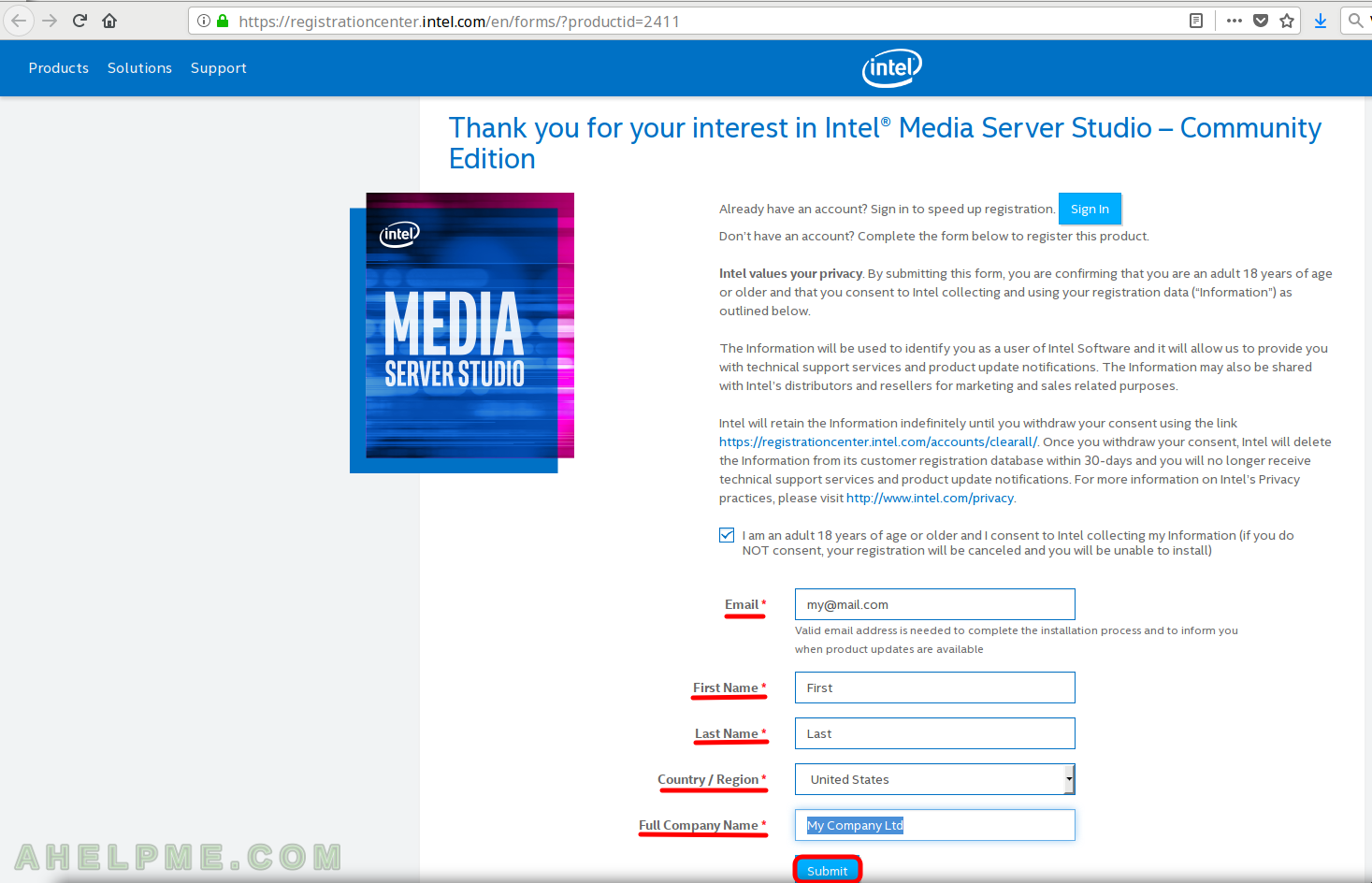 STEP 3) Check your details, enter your password and click "Register" on the bottom.
STEP 4) Click on "Choose a Version" and select "2018 2018_R1" – this is the latest version at the moment.
If you need another one just choose the right for you from the dropdown box. Check the checkbox with the "Consent to the collection of the information and would like to download the software".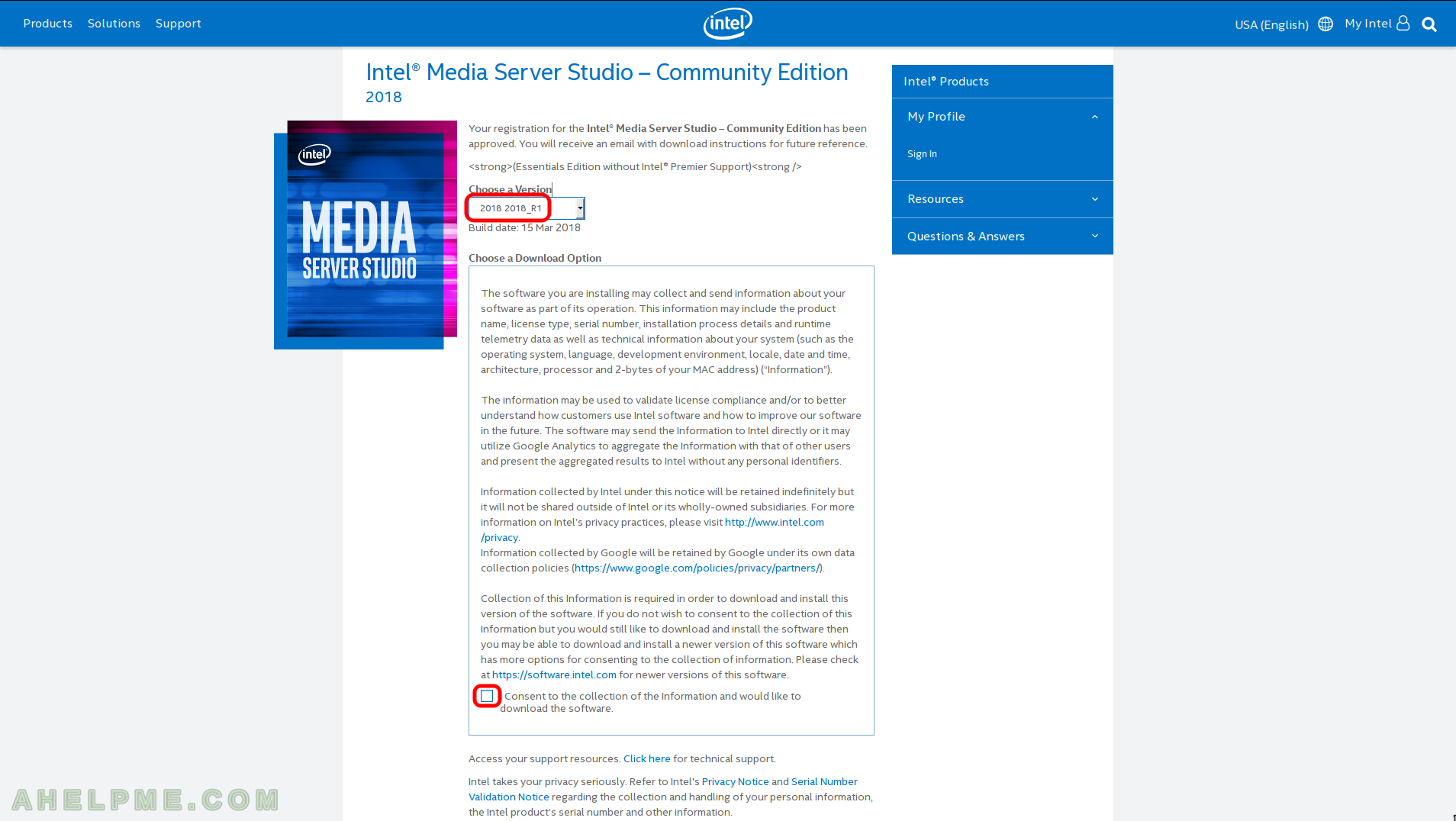 STEP 5) To download the package click in "Intel Media Server Studio for Linux*", the file is 549MB in size.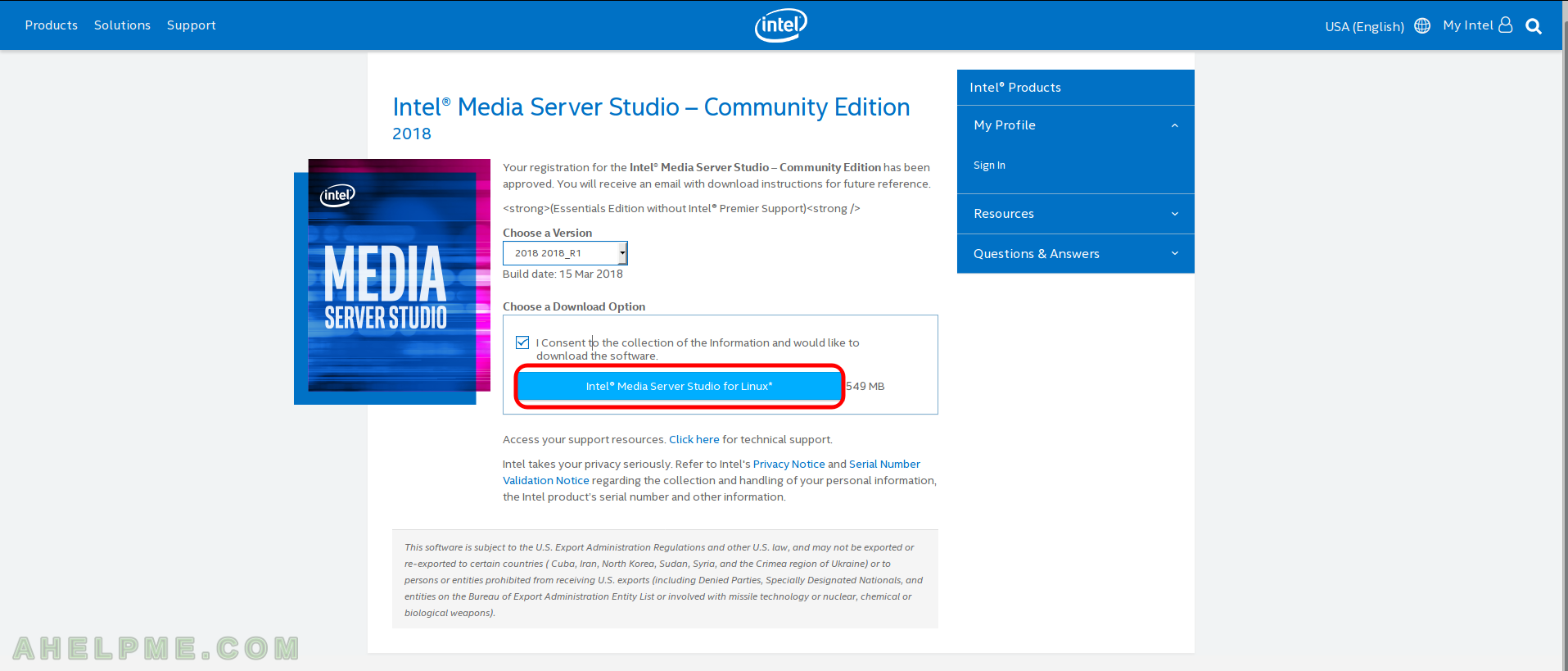 STEP 6) The file name is MediaServerStudioEssentials2018R1.tar.gz and in fact it is the Essentials version of the studio without any paid support.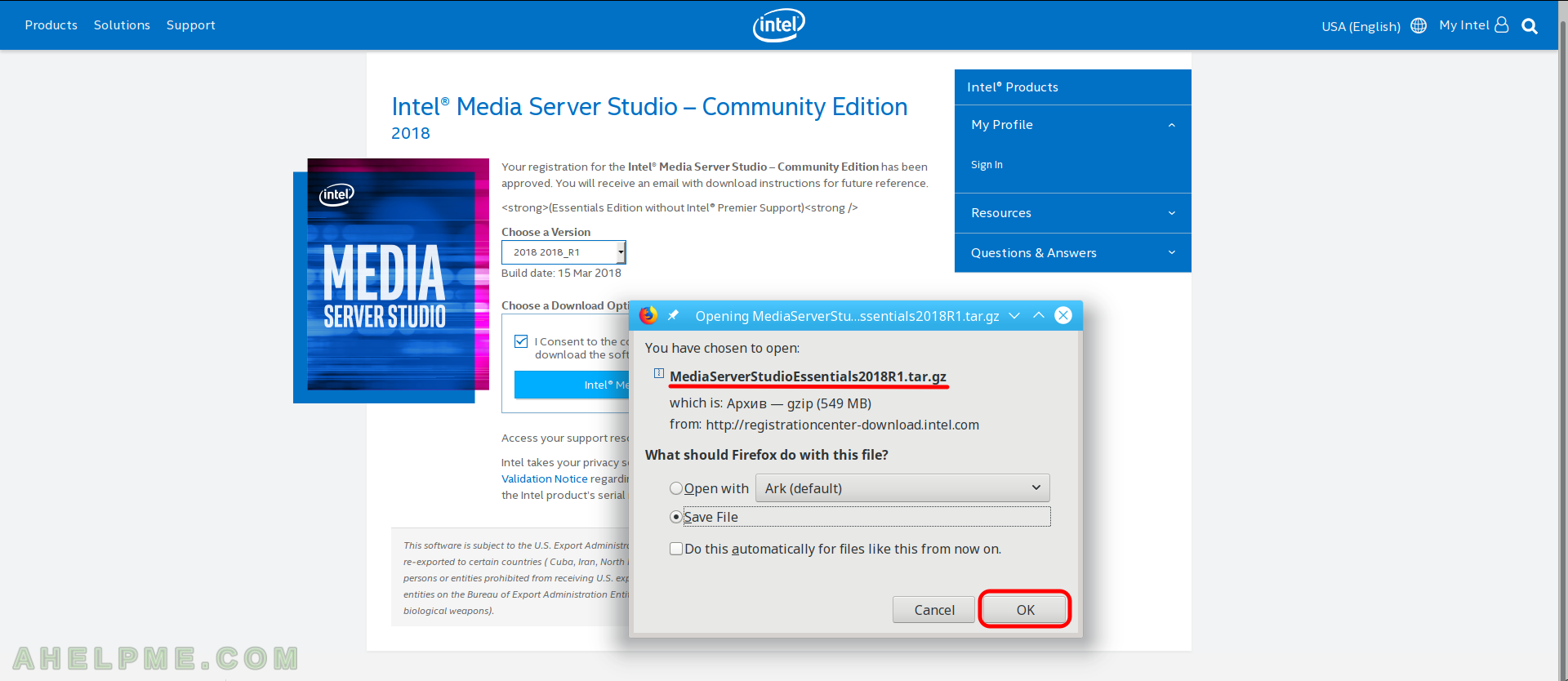 Here is what is in the archive:
SDK 2018 Production 16.8 – there two version way to install it:

it supports CentOS version 7.4.1708, because it is deprecated you should use vault.centos.org.

libdrm-2.4.74-69021
intel-linux-media-devel-16.8-69021
intel-opencl-cpu-16.8-67208
intel-linux-media-16.8-69021
ukmd-kmod-16.8-69021
kmod-ukmd-16.8-69021
libva-2.0.1.pre1-69021
drm-utils-2.4.74-69021
libdrm-devel-2.4.74-69021
intel-opencl-devel-16.8-67208
intel-opencl-16.8-67208
libva-devel-2.0.1.pre1-69021

Here is the modinfo output of the CentOS 7 i915 driver:


[root@conv11 Generic]# modinfo i915
filename:       /lib/modules/3.10.0-693.el7.x86_64/weak-updates/ukmd/i915.ko
license:        GPL and additional rights
description:    Intel Graphics
author:         Intel Corporation
author:         Tungsten Graphics, Inc.
firmware:       i915/bxt_dmc_ver1.bin
firmware:       i915/skl_dmc_ver1_26.bin
firmware:       i915/skl_guc_ver4.bin
rhelversion:    7.4


Generic Install – the setup will try to download kernel version 4.4.111 and install above libraries and compile i915 module.

MediaSamples Linux 2018 R1_b982
Intel SDK for Opencl 2017 7.0.0 2580_x64 – it includes Intel Code builder 2017.0-7.0.0.2580
Here is the files in the archive:

srv@local ~ $ tar xzvf MediaServerStudioEssentials2018R1.tar.gz
MediaServerStudioEssentials2018R1/
MediaServerStudioEssentials2018R1/Intel(R)_Media_Server_Studio_EULA.pdf
MediaServerStudioEssentials2018R1/Intel_SDK_for_OpenCL_2017_r2_release_notes.pdf
MediaServerStudioEssentials2018R1/MediaSamples_Linux_2018R1_b982.tar.gz.sig
MediaServerStudioEssentials2018R1/site_license_materials.txt
MediaServerStudioEssentials2018R1/third_party_programs.txt
MediaServerStudioEssentials2018R1/redist.txt
MediaServerStudioEssentials2018R1/media_server_studio_essentials_release_notes.pdf
MediaServerStudioEssentials2018R1/MediaSamples_Linux_2018R1_b982.tar.gz
MediaServerStudioEssentials2018R1/intel_sdk_for_opencl_2017_7.0.0.2580_x64.tgz
MediaServerStudioEssentials2018R1/SDK2018Production16.8.tar.gz
srv@local ~ $ tar xzvf MediaServerStudioEssentials2018R1/SDK2018Production16.8.tar.gz
SDK2018Production16.8/
SDK2018Production16.8/Generic/
SDK2018Production16.8/Generic/intel-opencl-16.8-67208.x86_64.tar.xz
SDK2018Production16.8/Generic/intel-opencl-devel-16.8-67208.x86_64.tar.xz
SDK2018Production16.8/Generic/intel-linux-media_generic_16.8-69021_64bit.tar.gz
SDK2018Production16.8/Generic/NOTICES.TXT
SDK2018Production16.8/Generic/intel-linux-media_generic_16.8-69021_64bit.tar.gz.sig
SDK2018Production16.8/Generic/vpg_ocl_linux_rpmdeb.public
SDK2018Production16.8/Generic/intel-opencl-cpu-16.8-67208.x86_64.tar.xz
SDK2018Production16.8/media_server_studio_getting_started_guide.pdf
SDK2018Production16.8/CentOS_7.4/
SDK2018Production16.8/CentOS_7.4/libdrm-2.4.74-69021.el7.centos.x86_64.rpm
SDK2018Production16.8/CentOS_7.4/mss-linux-xcode-media.public
SDK2018Production16.8/CentOS_7.4/MediaSamples_Linux_bin-16.8-69021.tar.gz.sig
SDK2018Production16.8/CentOS_7.4/MediaSamples_Linux_bin-16.8-69021.tar.gz
SDK2018Production16.8/CentOS_7.4/intel-linux-media-devel-16.8-69021.el7.centos.x86_64.rpm
SDK2018Production16.8/CentOS_7.4/intel-opencl-cpu-16.8-67208.x86_64.rpm
SDK2018Production16.8/CentOS_7.4/intel-linux-media-16.8-69021.el7.centos.x86_64.rpm
SDK2018Production16.8/CentOS_7.4/NOTICES.TXT
SDK2018Production16.8/CentOS_7.4/install_scripts_centos_16.8-69021.tar.gz
SDK2018Production16.8/CentOS_7.4/install_scripts_centos_16.8-69021.tar.gz.sig
SDK2018Production16.8/CentOS_7.4/ukmd-kmod-16.8-69021.el7.centos.src.rpm
SDK2018Production16.8/CentOS_7.4/kmod-ukmd-16.8-69021.el7.centos.x86_64.rpm
SDK2018Production16.8/CentOS_7.4/libva-2.0.1.pre1-69021.el7.centos.x86_64.rpm
SDK2018Production16.8/CentOS_7.4/drm-utils-2.4.74-69021.el7.centos.x86_64.rpm
SDK2018Production16.8/CentOS_7.4/libdrm-devel-2.4.74-69021.el7.centos.x86_64.rpm
SDK2018Production16.8/CentOS_7.4/intel-opencl-devel-16.8-67208.x86_64.rpm
SDK2018Production16.8/CentOS_7.4/intel-opencl-16.8-67208.x86_64.rpm
SDK2018Production16.8/CentOS_7.4/vpg_ocl_linux_rpmdeb.public
SDK2018Production16.8/CentOS_7.4/libva-devel-2.0.1.pre1-69021.el7.centos.x86_64.rpm
SDK2018Production16.8/intel-opencl-release-notes.pdf
SDK2018Production16.8/media_server_studio_fei_release_notes.pdf
SDK2018Production16.8/media_server_studio_sdk_release_notes.pdf
srv@local ~ $ tar xzvf MediaServerStudioEssentials2018R1/intel_sdk_for_opencl_2017_7.0.0.2580_x64.tgz
intel_sdk_for_opencl_2017_7.0.0.2580_x64/
intel_sdk_for_opencl_2017_7.0.0.2580_x64/pset/
intel_sdk_for_opencl_2017_7.0.0.2580_x64/pset/images/
intel_sdk_for_opencl_2017_7.0.0.2580_x64/pset/images/finish.png
intel_sdk_for_opencl_2017_7.0.0.2580_x64/pset/images/micl.png
intel_sdk_for_opencl_2017_7.0.0.2580_x64/pset/images/splash.png
intel_sdk_for_opencl_2017_7.0.0.2580_x64/pset/licenses/
intel_sdk_for_opencl_2017_7.0.0.2580_x64/pset/licenses/PYTHON/
intel_sdk_for_opencl_2017_7.0.0.2580_x64/pset/licenses/PYTHON/License-BEOPEN.com_v1.0.txt
intel_sdk_for_opencl_2017_7.0.0.2580_x64/pset/licenses/openssl/
intel_sdk_for_opencl_2017_7.0.0.2580_x64/pset/licenses/openssl/license.txt
intel_sdk_for_opencl_2017_7.0.0.2580_x64/pset/licenses/openssl/readme.txt
intel_sdk_for_opencl_2017_7.0.0.2580_x64/pset/licenses/libstdc++/
intel_sdk_for_opencl_2017_7.0.0.2580_x64/pset/licenses/libstdc++/readme-libstdc++.txt
intel_sdk_for_opencl_2017_7.0.0.2580_x64/pset/scripts/
intel_sdk_for_opencl_2017_7.0.0.2580_x64/pset/scripts/force_remove.sh
intel_sdk_for_opencl_2017_7.0.0.2580_x64/pset/32e/
intel_sdk_for_opencl_2017_7.0.0.2580_x64/pset/32e/libz/
intel_sdk_for_opencl_2017_7.0.0.2580_x64/pset/32e/libz/libz.so.1
intel_sdk_for_opencl_2017_7.0.0.2580_x64/pset/32e/libz/libz.so.1.2.11
intel_sdk_for_opencl_2017_7.0.0.2580_x64/pset/32e/libz/libz.so
intel_sdk_for_opencl_2017_7.0.0.2580_x64/pset/32e/qt/
intel_sdk_for_opencl_2017_7.0.0.2580_x64/pset/32e/qt/libQt5Core.so
intel_sdk_for_opencl_2017_7.0.0.2580_x64/pset/32e/qt/libQt5Core.so.5
intel_sdk_for_opencl_2017_7.0.0.2580_x64/pset/32e/qt/libQt5Core.so.5.6
intel_sdk_for_opencl_2017_7.0.0.2580_x64/pset/32e/qt/libQt5Core.so.5.6.2
intel_sdk_for_opencl_2017_7.0.0.2580_x64/pset/32e/qt/libQt5DBus.so
intel_sdk_for_opencl_2017_7.0.0.2580_x64/pset/32e/qt/libQt5DBus.so.5
intel_sdk_for_opencl_2017_7.0.0.2580_x64/pset/32e/qt/libQt5DBus.so.5.6
intel_sdk_for_opencl_2017_7.0.0.2580_x64/pset/32e/qt/libQt5DBus.so.5.6.2
intel_sdk_for_opencl_2017_7.0.0.2580_x64/pset/32e/qt/libQt5Gui.so
intel_sdk_for_opencl_2017_7.0.0.2580_x64/pset/32e/qt/libQt5Gui.so.5
intel_sdk_for_opencl_2017_7.0.0.2580_x64/pset/32e/qt/libQt5Gui.so.5.6
intel_sdk_for_opencl_2017_7.0.0.2580_x64/pset/32e/qt/libQt5Gui.so.5.6.2
intel_sdk_for_opencl_2017_7.0.0.2580_x64/pset/32e/qt/libQt5Widgets.so
intel_sdk_for_opencl_2017_7.0.0.2580_x64/pset/32e/qt/libQt5Widgets.so.5
intel_sdk_for_opencl_2017_7.0.0.2580_x64/pset/32e/qt/libQt5Widgets.so.5.6
intel_sdk_for_opencl_2017_7.0.0.2580_x64/pset/32e/qt/libQt5Widgets.so.5.6.2
intel_sdk_for_opencl_2017_7.0.0.2580_x64/pset/32e/qt/libQt5XcbQpa.so
intel_sdk_for_opencl_2017_7.0.0.2580_x64/pset/32e/qt/libQt5XcbQpa.so.5
intel_sdk_for_opencl_2017_7.0.0.2580_x64/pset/32e/qt/libQt5XcbQpa.so.5.6
intel_sdk_for_opencl_2017_7.0.0.2580_x64/pset/32e/qt/libQt5XcbQpa.so.5.6.2
intel_sdk_for_opencl_2017_7.0.0.2580_x64/pset/32e/qt/libQt5Xml.so
intel_sdk_for_opencl_2017_7.0.0.2580_x64/pset/32e/qt/libQt5Xml.so.5
intel_sdk_for_opencl_2017_7.0.0.2580_x64/pset/32e/qt/libQt5Xml.so.5.6
intel_sdk_for_opencl_2017_7.0.0.2580_x64/pset/32e/qt/libQt5Xml.so.5.6.2
intel_sdk_for_opencl_2017_7.0.0.2580_x64/pset/32e/qt/libxcb.so
intel_sdk_for_opencl_2017_7.0.0.2580_x64/pset/32e/qt/libxcb.so.1
intel_sdk_for_opencl_2017_7.0.0.2580_x64/pset/32e/qt/libxcb.so.1.1.0
intel_sdk_for_opencl_2017_7.0.0.2580_x64/pset/32e/libsv.so
intel_sdk_for_opencl_2017_7.0.0.2580_x64/pset/32e/install
intel_sdk_for_opencl_2017_7.0.0.2580_x64/pset/32e/install_gui
intel_sdk_for_opencl_2017_7.0.0.2580_x64/pset/32e/platforms/
intel_sdk_for_opencl_2017_7.0.0.2580_x64/pset/32e/platforms/libqxcb.so
intel_sdk_for_opencl_2017_7.0.0.2580_x64/pset/32e/imageformats/
intel_sdk_for_opencl_2017_7.0.0.2580_x64/pset/32e/imageformats/libqjpeg.so
intel_sdk_for_opencl_2017_7.0.0.2580_x64/pset/32e/libISSASecureWebChannel.so
intel_sdk_for_opencl_2017_7.0.0.2580_x64/pset/32e/libISSASoapMessenger.so
intel_sdk_for_opencl_2017_7.0.0.2580_x64/pset/32e/libcrypto.so.1.0.0
intel_sdk_for_opencl_2017_7.0.0.2580_x64/pset/32e/libssl.so.1.0.0
intel_sdk_for_opencl_2017_7.0.0.2580_x64/pset/mediaconfig.xml
intel_sdk_for_opencl_2017_7.0.0.2580_x64/pset/gt_debugger_post_install.cab
intel_sdk_for_opencl_2017_7.0.0.2580_x64/pset/gt_debugger_prerequisites.cab
intel_sdk_for_opencl_2017_7.0.0.2580_x64/pset/phonehome.cab
intel_sdk_for_opencl_2017_7.0.0.2580_x64/pset/pset_standard_dialogs.cab
intel_sdk_for_opencl_2017_7.0.0.2580_x64/pset/pset_user_stat.cab
intel_sdk_for_opencl_2017_7.0.0.2580_x64/pset/signing.cab
intel_sdk_for_opencl_2017_7.0.0.2580_x64/pset/disable_nonroot_installation.cab
intel_sdk_for_opencl_2017_7.0.0.2580_x64/pset/opencl_prerequisites.cab
intel_sdk_for_opencl_2017_7.0.0.2580_x64/pset/os_detection.cab
intel_sdk_for_opencl_2017_7.0.0.2580_x64/pset/ism.cab
intel_sdk_for_opencl_2017_7.0.0.2580_x64/pset/check.awk
intel_sdk_for_opencl_2017_7.0.0.2580_x64/pset/install.cab
intel_sdk_for_opencl_2017_7.0.0.2580_x64/pset/EULA.htm
intel_sdk_for_opencl_2017_7.0.0.2580_x64/install.sh
intel_sdk_for_opencl_2017_7.0.0.2580_x64/install_GUI.sh
intel_sdk_for_opencl_2017_7.0.0.2580_x64/rpm/
intel_sdk_for_opencl_2017_7.0.0.2580_x64/rpm/intel-ism-2.2.0.102.tgz
intel_sdk_for_opencl_2017_7.0.0.2580_x64/rpm/gt_debugger_target-ubuntu-2016.0-41250.x86_64.rpm
intel_sdk_for_opencl_2017_7.0.0.2580_x64/rpm/intel-sdk-opencl-codebuilder-base-2017.0-7.0.0.2580.x86_64.rpm
intel_sdk_for_opencl_2017_7.0.0.2580_x64/rpm/intel-sdk-opencl-codebuilder-base-ubuntu-2017.0-7.0.0.2580.x86_64.rpm
intel_sdk_for_opencl_2017_7.0.0.2580_x64/rpm/intel-sdk-opencl-codebuilder-core-2017.0-7.0.0.2580.x86_64.rpm
intel_sdk_for_opencl_2017_7.0.0.2580_x64/rpm/intel-sdk-opencl-codebuilder-devel-2017.0-7.0.0.2580.x86_64.rpm
intel_sdk_for_opencl_2017_7.0.0.2580_x64/rpm/intel-sdk-opencl-codebuilder-devel-ubuntu-2017.0-7.0.0.2580.x86_64.rpm
intel_sdk_for_opencl_2017_7.0.0.2580_x64/rpm/intel-sdk-opencl-codebuilder-eclipse-plugin-2017.0-7.0.0.2580.x86_64.rpm
intel_sdk_for_opencl_2017_7.0.0.2580_x64/rpm/intel-sdk-opencl-codebuilder-intel-devel-2017.0-7.0.0.2580.x86_64.rpm
intel_sdk_for_opencl_2017_7.0.0.2580_x64/rpm/intel-sdk-opencl-codebuilder-intel-devel-ubuntu-2017.0-7.0.0.2580.x86_64.rpm
intel_sdk_for_opencl_2017_7.0.0.2580_x64/rpm/intel-sdk-opencl-codebuilder-intel-cpu-exp-2017.0-7.0.0.2580.x86_64.rpm
intel_sdk_for_opencl_2017_7.0.0.2580_x64/rpm/gt_debugger_core-2016.0-41250.x86_64.rpm
intel_sdk_for_opencl_2017_7.0.0.2580_x64/rpm/gt_debugger_core-pset-2016.0-41250.noarch.rpm
intel_sdk_for_opencl_2017_7.0.0.2580_x64/rpm/gt_debugger_elfdwarf_sources-2016.0-41250.x86_64.rpm
intel_sdk_for_opencl_2017_7.0.0.2580_x64/rpm/gt_debugger_gdb_sources-2016.0-41250.x86_64.rpm
intel_sdk_for_opencl_2017_7.0.0.2580_x64/rpm/gt_debugger_host-2016.0-41250.x86_64.rpm
intel_sdk_for_opencl_2017_7.0.0.2580_x64/rpm/gt_debugger_host-ubuntu-2016.0-41250.x86_64.rpm
intel_sdk_for_opencl_2017_7.0.0.2580_x64/rpm/gt_debugger_igfxgdb_sources-2016.0-41250.x86_64.rpm
intel_sdk_for_opencl_2017_7.0.0.2580_x64/rpm/gt_debugger_licenses-2016.0-41250.x86_64.rpm
intel_sdk_for_opencl_2017_7.0.0.2580_x64/rpm/gt_debugger_target-2016.0-41250.x86_64.rpm
intel_sdk_for_opencl_2017_7.0.0.2580_x64/rpm/intel-sdk-opencl-codebuilder-core-pset-2017.0-7.0.0.2580.noarch.rpm
intel_sdk_for_opencl_2017_7.0.0.2580_x64/silent.cfg
intel_sdk_for_opencl_2017_7.0.0.2580_x64/EULA.txt
intel_sdk_for_opencl_2017_7.0.0.2580_x64/PUBLIC_KEY.PUB

Here are the installed media in "/opt/intel" – the librabry files and which version are available:

/opt/
/opt/intel
/opt/intel/common
/opt/intel/common/mdf
/opt/intel/common/mdf/lib64
/opt/intel/common/mdf/lib64/libigc.so
/opt/intel/common/mdf/lib64/igfxcmrt64.so
/opt/intel/common/mdf/lib64/libigfxcmrt64.so
/opt/intel/opencl
/opt/intel/opencl/libigdccl.so
/opt/intel/opencl/libOpenCL.so
/opt/intel/opencl/__ocl_svml_e9.so
/opt/intel/opencl/libcommon_clang_legacy.so
/opt/intel/opencl/clbltfne9.rtl
/opt/intel/opencl/clbltfnh8_img_cbk.o
/opt/intel/opencl/__ocl_svml_h8.so
/opt/intel/opencl/libintelocl.so
/opt/intel/opencl/clbltfne9_img_cbk.rtl
/opt/intel/opencl/LICENSE
/opt/intel/opencl/libigdrcl.so
/opt/intel/opencl/clbltfnshared.rtl
/opt/intel/opencl/libIntelOpenCL.so
/opt/intel/opencl/libiga64.so
/opt/intel/opencl/libigdbcl.so
/opt/intel/opencl/igdclbif.bin
/opt/intel/opencl/include
/opt/intel/opencl/include/CL
/opt/intel/opencl/include/CL/cl_vebox_intel.h
/opt/intel/opencl/include/CL/cl.hpp
/opt/intel/opencl/include/CL/cl_platform.h
/opt/intel/opencl/include/CL/cl_gl.h
/opt/intel/opencl/include/CL/cl_ext.h
/opt/intel/opencl/include/CL/cl.h
/opt/intel/opencl/include/CL/va_ext.h
/opt/intel/opencl/include/CL/cl_gl_ext.h
/opt/intel/opencl/include/CL/opencl.h
/opt/intel/opencl/include/CL/cl2.hpp
/opt/intel/opencl/__ocl_svml_l9.so
/opt/intel/opencl/clbltfnh8.rtl
/opt/intel/opencl/libcommon_clang.so
/opt/intel/opencl/kernel-4.4-xcode.patch
/opt/intel/opencl/libigdmcl.so
/opt/intel/opencl/libigdfcl.so
/opt/intel/opencl/kernel-4.7.patch
/opt/intel/opencl/libtbb.so.2
/opt/intel/opencl/clbltfnl9_img_cbk.rtl
/opt/intel/opencl/NOTICES
/opt/intel/opencl/libtbb.so
/opt/intel/opencl/libmd.so
/opt/intel/opencl/clbltfnl9.rtl
/opt/intel/opencl/clbltfne9_img_cbk.o
/opt/intel/opencl/libtask_executor.so
/opt/intel/opencl/libtbbmalloc.so.2
/opt/intel/opencl/libtbbmalloc.so
/opt/intel/opencl/clbltfnl9_img_cbk.o
/opt/intel/opencl/libOpenCL.so.1
/opt/intel/opencl/libcpu_device.so
/opt/intel/opencl/libcl_logger.so
/opt/intel/opencl/libclang_compiler.so
/opt/intel/opencl/libOclCpuBackEnd.so
/opt/intel/opencl/libigdfcl_legacy.so
/opt/intel/opencl/OpenCL.pc
/opt/intel/opencl/clbltfnh8_img_cbk.rtl
/opt/intel/mediasdk
/opt/intel/mediasdk/plugins
/opt/intel/mediasdk/plugins/libmfx_hevcd_hw64.so
/opt/intel/mediasdk/plugins/libmfx_h264la_hw64.so
/opt/intel/mediasdk/plugins/libmfx_hevce_hw64.so
/opt/intel/mediasdk/plugins/libmfx_vp8d_hw64.so
/opt/intel/mediasdk/plugins/plugins.cfg
/opt/intel/mediasdk/doc
/opt/intel/mediasdk/doc/dynamic_slice_shutdown.pdf
/opt/intel/mediasdk/doc/mediasdk-man.pdf
/opt/intel/mediasdk/doc/mediasdkvp8-man.pdf
/opt/intel/mediasdk/doc/mediasdkusr-man.pdf
/opt/intel/mediasdk/doc/mediasdkjpeg-man.pdf
/opt/intel/mediasdk/doc/mediasdkfei-man.pdf
/opt/intel/mediasdk/doc/mediasdk_hevc_interlace_whitepaper.pdf
/opt/intel/mediasdk/opensource
/opt/intel/mediasdk/opensource/libva
/opt/intel/mediasdk/opensource/libva/2.0.1.pre1-69021
/opt/intel/mediasdk/opensource/libva/2.0.1.pre1-69021/libva-2.0.1.pre1.tar.bz2
/opt/intel/mediasdk/opensource/libdrm
/opt/intel/mediasdk/opensource/libdrm/2.4.74-69021
/opt/intel/mediasdk/opensource/libdrm/2.4.74-69021/libdrm-2.4.74.tar.bz2
/opt/intel/mediasdk/opensource/readme-dispatcher-linux.pdf
/opt/intel/mediasdk/opensource/mfx_dispatch
/opt/intel/mediasdk/opensource/mfx_dispatch/pkg-config.pc.cmake
/opt/intel/mediasdk/opensource/mfx_dispatch/include
/opt/intel/mediasdk/opensource/mfx_dispatch/include/mfx_plugin_cfg_parser.h
/opt/intel/mediasdk/opensource/mfx_dispatch/include/mfx_vector.h
/opt/intel/mediasdk/opensource/mfx_dispatch/include/mfx_dispatcher_defs.h
/opt/intel/mediasdk/opensource/mfx_dispatch/include/mfx_critical_section.h
/opt/intel/mediasdk/opensource/mfx_dispatch/include/mfx_dispatcher_log.h
/opt/intel/mediasdk/opensource/mfx_dispatch/include/mfx_plugin_hive.h
/opt/intel/mediasdk/opensource/mfx_dispatch/include/mfx_dxva2_device.h
/opt/intel/mediasdk/opensource/mfx_dispatch/include/mfx_win_reg_key.h
/opt/intel/mediasdk/opensource/mfx_dispatch/include/mfx_dispatcher.h
/opt/intel/mediasdk/opensource/mfx_dispatch/include/mfxaudio_exposed_functions_list.h
/opt/intel/mediasdk/opensource/mfx_dispatch/include/mfx_load_dll.h
/opt/intel/mediasdk/opensource/mfx_dispatch/include/mfx_load_plugin.h
/opt/intel/mediasdk/opensource/mfx_dispatch/include/mfx_exposed_functions_list.h
/opt/intel/mediasdk/opensource/mfx_dispatch/include/mfx_library_iterator.h
/opt/intel/mediasdk/opensource/mfx_dispatch/src
/opt/intel/mediasdk/opensource/mfx_dispatch/src/mfx_library_iterator.cpp
/opt/intel/mediasdk/opensource/mfx_dispatch/src/mfx_load_dll_linux.cpp
/opt/intel/mediasdk/opensource/mfx_dispatch/src/mfx_dxva2_device.cpp
/opt/intel/mediasdk/opensource/mfx_dispatch/src/mfx_dispatcher_log.cpp
/opt/intel/mediasdk/opensource/mfx_dispatch/src/mfx_win_reg_key.cpp
/opt/intel/mediasdk/opensource/mfx_dispatch/src/mfx_load_dll.cpp
/opt/intel/mediasdk/opensource/mfx_dispatch/src/mfx_plugin_hive_linux.cpp
/opt/intel/mediasdk/opensource/mfx_dispatch/src/main.cpp
/opt/intel/mediasdk/opensource/mfx_dispatch/src/mfx_critical_section_linux.cpp
/opt/intel/mediasdk/opensource/mfx_dispatch/src/mfx_library_iterator_linux.cpp
/opt/intel/mediasdk/opensource/mfx_dispatch/src/mfx_critical_section.cpp
/opt/intel/mediasdk/opensource/mfx_dispatch/src/mfx_plugin_cfg_parser.cpp
/opt/intel/mediasdk/opensource/mfx_dispatch/src/mfx_function_table.cpp
/opt/intel/mediasdk/opensource/mfx_dispatch/src/mfx_load_plugin.cpp
/opt/intel/mediasdk/opensource/mfx_dispatch/src/mfx_plugin_hive.cpp
/opt/intel/mediasdk/opensource/mfx_dispatch/src/mfx_dispatcher.cpp
/opt/intel/mediasdk/opensource/mfx_dispatch/CMakeLists.txt
/opt/intel/mediasdk/tools
/opt/intel/mediasdk/tools/tracer
/opt/intel/mediasdk/tools/tracer/README
/opt/intel/mediasdk/tools/tracer/libmfx-tracer.so
/opt/intel/mediasdk/tools/tracer/mfx-tracer-config
/opt/intel/mediasdk/tools/metrics_monitor
/opt/intel/mediasdk/tools/metrics_monitor/doc
/opt/intel/mediasdk/tools/metrics_monitor/doc/metricsmon-man.pdf
/opt/intel/mediasdk/tools/metrics_monitor/sample
/opt/intel/mediasdk/tools/metrics_monitor/sample/run.sh
/opt/intel/mediasdk/tools/metrics_monitor/sample/build.sh
/opt/intel/mediasdk/tools/metrics_monitor/sample/cttmetrics_sample.cpp
/opt/intel/mediasdk/tools/metrics_monitor/_bin
/opt/intel/mediasdk/tools/metrics_monitor/_bin/libcttmetrics.so
/opt/intel/mediasdk/tools/metrics_monitor/_bin/metrics_monitor
/opt/intel/mediasdk/tools/metrics_monitor/README
/opt/intel/mediasdk/tools/metrics_monitor/include
/opt/intel/mediasdk/tools/metrics_monitor/include/cttmetrics.h
/opt/intel/mediasdk/include
/opt/intel/mediasdk/include/mfxenc.h
/opt/intel/mediasdk/include/mfxdispatcherprefixedfunctions.h
/opt/intel/mediasdk/include/mfxcommon.h
/opt/intel/mediasdk/include/mfxstructures.h
/opt/intel/mediasdk/include/mfxaudio.h
/opt/intel/mediasdk/include/mfxjpeg.h
/opt/intel/mediasdk/include/mfxplugin++.h
/opt/intel/mediasdk/include/mfxvp8.h
/opt/intel/mediasdk/include/mfxplugin.h
/opt/intel/mediasdk/include/mfxvideo++.h
/opt/intel/mediasdk/include/mfxbrc.h
/opt/intel/mediasdk/include/mfxmvc.h
/opt/intel/mediasdk/include/mfxsession.h
/opt/intel/mediasdk/include/mfxastructures.h
/opt/intel/mediasdk/include/mfxvideo.h
/opt/intel/mediasdk/include/mfxla.h
/opt/intel/mediasdk/include/mfxfei.h
/opt/intel/mediasdk/include/mfxdefs.h
/opt/intel/mediasdk/include/mfxpak.h
/opt/intel/mediasdk/include/mfxaudio++.h
/opt/intel/mediasdk/include/mfxvstructures.h
/opt/intel/mediasdk/lib64
/opt/intel/mediasdk/lib64/hme_downscale_gen9.isa
/opt/intel/mediasdk/lib64/libmfxhw64-p.so.1.25
/opt/intel/mediasdk/lib64/HevcEnc_PB_genx.isa
/opt/intel/mediasdk/lib64/libmfxhw64.so
/opt/intel/mediasdk/lib64/AVCEncKernel_SKL_genx.isa
/opt/intel/mediasdk/lib64/HevcEnc_I_genx.isa
/opt/intel/mediasdk/lib64/hme_gen9.isa
/opt/intel/mediasdk/lib64/FEI_gen8.isa
/opt/intel/mediasdk/lib64/hme_gen8.isa
/opt/intel/mediasdk/lib64/hme_downscale_gen8.isa
/opt/intel/mediasdk/lib64/libmfxsw64.so
/opt/intel/mediasdk/lib64/iHD_drv_video.so
/opt/intel/mediasdk/lib64/hme_downscale_genx.isa
/opt/intel/mediasdk/lib64/libmfxsw64-p.so.1.25
/opt/intel/mediasdk/lib64/FEI_gen9.isa
/opt/intel/mediasdk/lib64/AVCEncKernel_BDW_genx.isa
/opt/intel/mediasdk/lib
/opt/intel/mediasdk/lib/lin_x64
/opt/intel/mediasdk/lib/lin_x64/libmfx.a